Poetry goes out into the streets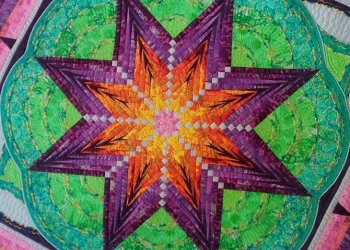 March 21 Benalmadena celebrates World Poetry Day.
On the street Blas Infante in Arroyo de la Miel will be placed a large 120-meter white sheet, which all citizens and collectives can fill with favorite poems.
Vice-president of the Association Lucky Qulters and our dear friend Ana Garcia Palomo dedicated her poems to the art of Art Quilt and Patchwork
MANOS DE ARTE

Coges hilos y un dedal,
trocitos de muchas telas,
haces con ellos tus alas
y vuelas.
Subes deprisa hasta el cielo,
y allí das la libertad
a los pájaros, las flores,
las gotas de lluvia, los soles…
que pinten de rayos
los lagos, los ríos y los mares.
Con telas también haremos
casas, castillos y calles,
que llenaremos de amores
con las cintas de colores
de nuestras telas preciosas
que, como joyas valiosas,
adornarán corazones,
alegrarán las tristezas
y se llevarán las penas
hasta lugares remotos
donde no haya tejidos,
donde no haya dedales,
donde no existan los hilos.
Mientras unas manos cosan
con destreza las urdimbres,
y otros ojos, con emoción, las admiren,
ENTONCES EL ARTE NOS HARÁ LIBRES.
19.03.2018