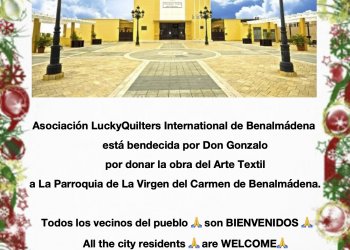 The Lucky Quilters International Association has been honored to place a 130x80 textile canvas at the La Parroquia de La Virgen del Carmen Catholic Church in Benalmadena. Work will remain there forever. This is the work called «Jesus Christ» of the quilters group (Oksana Mader, Marina Frolova, Paula García Ledesma, Amparo Ruiz Cillero).
The transfer ceremony will take place at the pre-Christmas Mass on December 14 at 19.00. Then the presentation of the work to the public will take place. And we invite our readers to this solemn occasion!
As we learned, the head priest of the church, Don Gonzalo, liked the canvas so much that he suggested that the President of the Association, Oksana Mader, choose the place to work in the church.
According to Oksana, who finished the canvas in just three days, during freewheeling stitches, she listened to the songs of the Orthodox choir and akathist. It is very symbolic that now this work will adorn the Catholic Church. This speaks of the unity and mutual understanding of the multinational Costa del Sol and its indigenous people - the Spaniards, about the desire not only to love this land and its owners, but also the desire to integrate with its culture and respect its history and customs.
Oksana Mader is the president of the Lucky Quilters International Association, which unites craftworkers from around the world. This non-profit and cultural Association has held two magnificent international festivals in Benalmadena, and is also involved in charity work.
Oksana Mader herself is a prize-winner and participant of both European and largest world quilt festivals and exhibitions. Most recently, she returned from Houston, Texas / USA, where her textile quilt "Guardian Angel of Faith, Hope and Love" was presented, which will travel to many states of vast America until September 2020, representing Spain, Andalusia, Malaga, Benalmadena.
So, friends, let's come to the ceremony on December 14th and congratulate the Lucky Quilters International on such a huge recognition.
20.11.2019